It's summer! On the other side of the world, that is. In my country, we're just about to say goodbye to the almost four-month long El Niño phenomenon and saying hello to the wet season. Regardless, you
otaku
s know what that means -- the
2010 summer animes
are out! Below are my first impressions of shows that I decided to check out.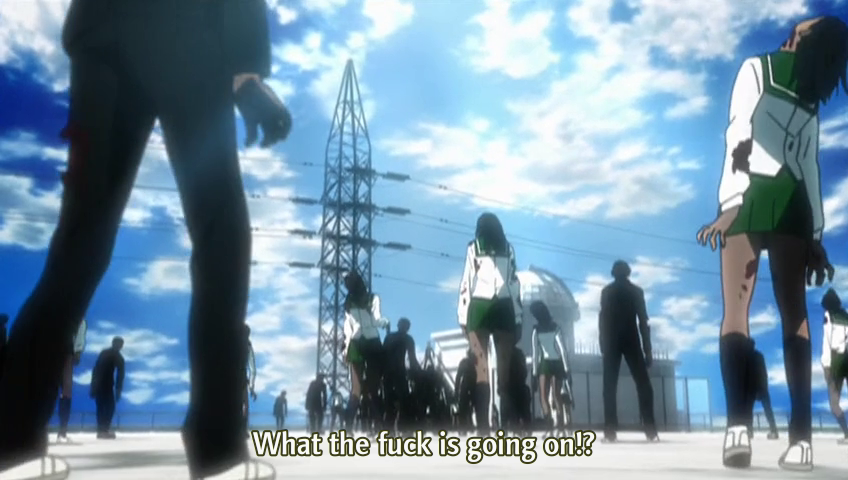 Highschool of the Dead

(1)
Based on a manga by Daisuke Sato (story) and Shouji Sato (art),
Highschool of the Dead
follows a group of high school kids caught in the middle of a zombie apocalypse. The series open at an ordinary Japanese high school where sophomore Komuro Takashi, his childhood friend and secret love Miyamoto Rei,
kendo
club president and senior Busujima Saeko, self-proclaimed genius Takagi Saya, gun
otaku
Hirano Kohta and ditsy school nurse Marikawa Shizuka all come together under the most horrifying of circumstances in this tale of love, friendship, fanservice and survival in a suddenly zombie-infested world. People, welcome to Japan. :P
Highschool of the Dead
being from the same director (Tetsurou Araki) and animation studio (Madhouse) as
Kurozuka
, I expected that the violence and the gore in this anime are going to be over the top. After seeing the first episode, let's just say that all my expectations in those aspects were met. The character designs are attractive, especially the women who all have boobs of the size that are only B-movie appropriate. It also has some recognizable names in the cast with solid track records. The music is unsurprising -- it's all noisy, gritty rock and the ending theme actually sounds like a generic theme that's been used in many zombie movies before.
That said, it's pretty obvious that
Highschool of the Dead
isn't some groundbreaking anime. Much of it is pretty derivative from its stock of characters to its premise. Heck, it doesn't even add a twist to the zombie myth like
Twilight
did to the whole vampire franchise. What it does is shamelessly pander to the tastes of its already existing fans -- no pretenses, no masks, take-it-or-leave-it. In my case, I was entertained enough to take this series through its 13-episode ride.
Here's another Madhouse-animated vehicle,
Black Lagoon: Roberta's Blood Trail
is the third season of the popular
Black Lagoon
series, adapted from the manga of the same title by Rei Hiroe, about pirates/mercenaries who smuggle goods (and people) around the seas of Southeast Asia.
In this OVA, the Lagoon Company, composed of 'Nam vet Dutch, computer whiz Benny, gun-busting Revvy and pacifier ex-salaryman Rock, get inadvertently dragged in the middle of a war between the US Government, the Russian mafia, the CIA, the Hong Kong Triad, Latin American drug cartels and a whole bunch of degenerates as the title character Roberta, a terminator-like former assassin-turned-maid, goes all crazy-mad in order to avenge her master's death right in their own backyard.
Finally! I've been waiting for this for a very long time. I've recently picked up the manga and also went on a marathon with the previous two seasons just to prepare myself for this. And perhaps my expectations were set a little too high because the first episode of this OVA wasn't quite up there. Yes, there's the usual violent firefights, the over-the-top violence and mayhem, the
strong
language and Bao's comical rage at his bar being destroyed yet again but something is still lacking. Mind you, this wasn't my favorite story arc in the
Black Lagoon
manga but I can't help feeling that this ought to be more enjoyable somehow and it isn't. Still, there are only five episodes of this and the next one might prove me wrong so I'm sticking it out.
Kure-nai
is based on a light novel series by Katayama Kentarou with illustrations by Yamamoto Yamato. It's about the adventures and misadventures of 16-yeard-old dispute-settler, Kurenai Shinkurou who finds himself suddenly entrusted with the 10-year-old daughter of a powerful plutocratic family who has no scruples about using force to take her back into the fold.
The original series already addressed the issue of Murasaki's going back to her family. In fact, the series ended with Murasaki deciding on her own to stay in order to better effect changes from within the closed walls of the Kuhoin family. So I'm kinda in a quandary here, between wanting to enjoy this series for its quirky humor and realizing that it's all quite pointless. There's no story here. Move along.
Shiki
takes place in a small, seemingly peaceful village, called Sotoba. However, this is no simple village as death is a regular occurrence here. It all started with the demolition of an old house and the construction of a strikingly out of place Victorian Mansion in its place high up on a mountain. Fashionable Shimizu Megumi hates this boring town and is fascinated by only two things: the standoffish city-boy Natsuno Yuuki and, of course, the mansion. One day, she walks up to the mansion and realizes that someone is watching her. The next instant, evening has fallen and the villagers are organizing a search party in order to search for her. This is definitely
not
an ordinary town.
I have to admit that I was attracted to this anime because of its promotional poster. Other than that and its basic premise of strange deaths occurring in a sleepy town, I knew nothing about
Shiki
. As such, I came into this series with virtually zero expectations. The first episode doesn't exactly jump right into the thick of things. Rather, it focuses more on character introductions and setting the atmosphere for the horror that is sure to come. It might seem a little off-putting for those expecting something around the likes of
Highschool of the Dead
and
Seikimatsu Occult Academy
but a little patience could go a long way. Though I'm not a huge fan of the character designs, the story looks promising enough.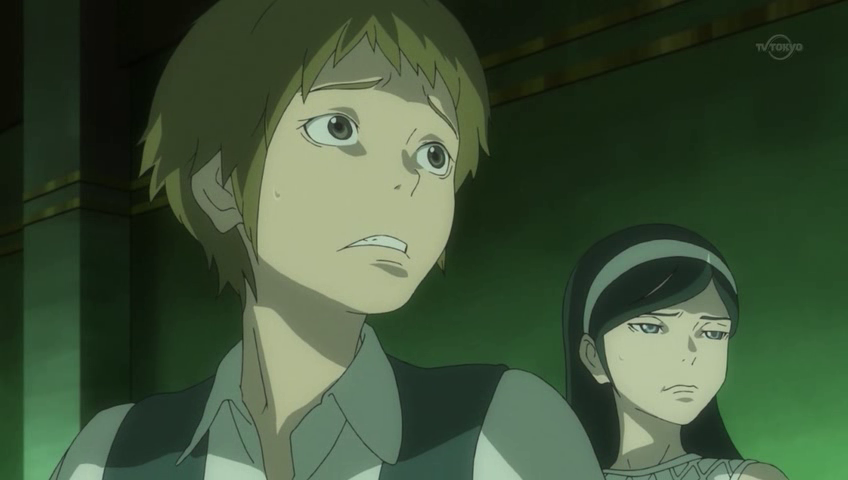 It's the year 1999 and Kuwashiro Maya arrives late to the funeral of her own father, the late principal of Waldstein Academy. Despising anything and everything that has to do with the occult, Maya finds to her unending embarrassment that her father has accidentally summoned an ancient evil spirit, causing his untimely death. In an effort to contain the situation, Maya declares that it's all been staged, only to get mauled by said evil spirit right in front of everybody. Her humiliation complete, Maya decides to take action with the help of a childhood friend and two dubious-looking occult "experts." But as if that wasn't enough, Maya later encounters a strange naked guy who suddenly appears in a beam of light flashing from the sky. Talk about a shitty day for a homecoming.
I was NOT expecting this series to be any good. In fact, if you recall, I didn't even include
Occult Academy
in my original
2010 Summer Anime Line-Up
. But after reading bright reviews about the first episode from ANN, I changed my mind and decided to check out the anime. Boy, was I happy I did just that.
So far we've had zombies and vampires for this season. Why not evil spirits and demons, eh?
Occult Academy
is animated by A-1 Pictures with relative unknown Oto Tomohiko at the directing helm. It's a fine mix of comedy and supernatural fantasy. Not only that, there are also hints of a much bigger plot in the making. The art style is simple with bold lines and rounded shapes, characteristic of many child-friendly anime like
Natsu no Sora
and
Denno Coil
. In fact, Sora from the former title has a lot of similar design characteristics as Maya, the main character in
Occult Academy
. All in all, this anime looks really good and also funny so it's right up my alley.
Ookami-san to Shichinin no Nakama-tachi
(
lit.
"Ms. Wolf and Her Seven Companions") is about Ookami Ryouko, a tough, spunky girl, who is a member of the "fixer" club, Otogi Bank, which specializes in "fixing" problems of their clients.
Characteristic of the slice of life genre,
Ookami-san
isn't really about anything in particular. We're supposed to believe that this is a love story of sorts, and based on the first two episodes, it certainly looks like the series is angling for that, but really, this is just another gag show like
Arakawa Under the Bridge
, only less psychotic and a much more boring cast of characters. Yes, yes, I am not enjoying this series and will be dropping it from my list. Sorry, Taiga-look-alike, but as much as I like the
tsundere
trope, the story either has to make sense or not make any at all, instead of vacillating between the two, in order to get my attention.